NEWS
HOT GALLERY: 13 Winter Olympians Go Shirtless!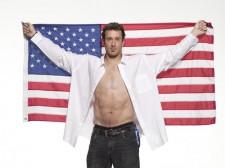 Before the Winter Olympic Games even began, 13 of the hottest male Olympians — including recent Gold medal recipients snowboarder Seth Wescott and figure skater Evan Lysacek — posed shirtless for their fans and now we're reaping the reward!
OK! HOT GALLERY: THE OLYMPICS' HOTTEST BACHELORS
Medal or no medal, it sure looks like their training leaves them with a personal victory!
Article continues below advertisement
We'd like to take a moment to thank these fine Americans for representing their country! For more videos, personal stories and the schedule of events for the week check out NBCOlympics.com or TeamUSA.org!