NEWS
Jenny McCarthy Says She Helped "Fix" Her Son's Autism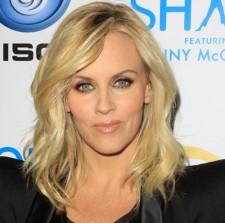 Jenny McCarthy has always been very vocal about praying to "fix" her son Evan's autism, who was diagnosed in 2005 at the age of 2, and believing that vaccines are a link to the disorder in children. Now, in a new interview in Time magazine, Jenny reveals that her dreams have come true. However, the article discusses how doctors are questioning whether Jenny's son, now 7, ever had autism to begin with.
Article continues below advertisement
OK! NEWS: JENNY MCCARTHY SENDS A SKY HIGH MESSAGE TO JIM CARREY
Jenny's message to parents of trying to do whatever you can to help "fix" your child's autism, has given her many supporters. But in the article with Time magazine, doctors question whether her message is actually a dangerous one.
She's written three best-selling books on autism and in 2007 started a heated discussion on Oprah about the subject of vaccinations.
"What number does it have to be ... for people just to start listening to what the mothers of children who have autism have been saying for years ... I told my pediatrician something happened ... after he was vaccinated ?... Boom — the soul was gone from his eyes." After Oprah read a comment from the CDC stating that the majority of science to date did not support her assertion, Jenny replied, "My science is Evan. He's at home. That's my science."
Article continues below advertisement
Now, Evan shows no signs of the disorder and Jenny claims he has been healed by a variety of experimental biomedical treatments.
"Evan couldn't talk — now he talks. Evan couldn't make eye contact — now he makes eye contact. Evan was antisocial — now he makes friends," she explains. "It was amazing to watch, over the course of doing this, how certain therapies work for certain kids and they completely don't work for others ... When something didn't work for Evan, I didn't stop. I stopped that treatment, but I didn't stop."
OK! NEWS: JENNY MCCARTHY JOINS OPRAH
However, doctors are wondering whether her son was ever really autistic.
"Evan's symptoms — heavy seizures, followed by marked improvement once the seizures were brought under control — are similar to those of Landau-Kleffner syndrome, a rare childhood neurological disorder that can also result in speech impairment and possible long-term neurological damage," the article said.
Article continues below advertisement
"Or, as other pediatricians have suggested, perhaps the miracle I have beheld is the quotidian miracle of childhood development: a delayed 2-year-old catching up by the time he is 7, a commonplace, routine occurrence, nothing more surprising than a short boy growing tall."
Jenny wouldn't agree, but she is changing her opinion about vaccinations and wants more research to be done.
She now wants to give other parents hope.
"Hope is the greatest thing for moms of autism," McCarthy says. "Hope is what gets us out of bed in the morning. I'm on a mission to tell parents that there is a way."