NEWS
Kristen Stewart's 'New Moon' Potty Mouth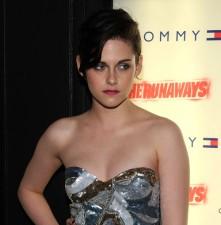 Kristen Stewart may play iconic, bad ass rocker Joan Jett and partake in some girl-on-girl action on screen with Dakota Fanning in The Runaways, but while filming New Moon the beloved actress had a potty mouth off camera!
New Moon director Chris Weitz told PopEater that Kristen took the cake for the number of curse words on set.
"It's Kristen by several lengths actually," Chris said.
Article continues below advertisement
What cuss words gave Kristen the title of champion swearer?
"I couldn't say over a domestic phone line," the director quipped.
OK! GALLERY: THE RUNAWAYS TAKE A BITE OUT OF BIG APPLE
Unfortunately, there is not a blooper real of Kristen's potty mouth on the New Moon DVD, which to the delight of Twi-hards was released everywhere this weekend!
"I think that blooper reel would take us into NC-17 territory," the director told PopEater. "I don't think that's what Summit Entertainment has in mind in terms of extras."
"Everyone likes to say that things were hilarious on the set, but we were working so hard that we couldn't afford to have bloopers," Chris said. "Every take counted."
The clean takes that is.
"Those kids have some mouths," he said. "Except for Taylor (Lautner). He was always very well-spoken."