NEWS
'The Runaways' Take a Bite Out of Big Apple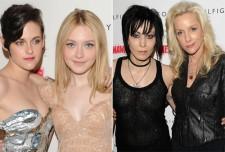 Kristen Stewart and Dakota Fanning rocked the red carpet last night at the NYC premiere of their new biopic The Runaways. The friends looked radiant and bonded with their music legends Joan Jett and Cherie Currie. The icons seem proud of the way they were portrayed by the two young talented actresses! So what does Kristen think of Joan? And how was filming the lesbian scene for the two starlets?
Kristen told reporters at the premiere that she agreed to play Joan immediately.
Article continues below advertisement
"You do a movie for a million reasons, and I realized once I got into it that there was a lot more to Joan than I knew about," she said.
The star said she admires Joan's realness and ability to be herself.
"She is who she is, to put it completely plainly," Kristen told reporters. "There's not some deep way to put it. She almost really innocently doesn't even realize that she is that way. If you said 'God, you're such a bad-ass, you're so yourself all the time,' she'd be like 'What?! I don't even know what you're talking about.'"
K-Stew said the most difficult aspect of playing the iconic musician was the singing.
OK! GALLERY: THE RUNAWAYS ROCK OUT AT THEIR L.A. PREMIERE
To be honest, the most difficult thing were the performances, because I'm not a performer," she said. "You learn so much about yourself. I don't know how to be more specific about it."
Dakota beamed on the carpet next to Kristen. The pair are very close friends.