NEWS
Chris Brown's 'Good Morning America' Interview Questions Were Pre-Approved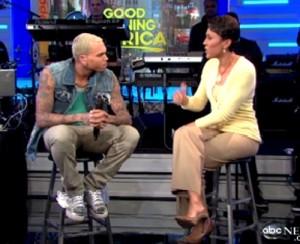 Chris Brown should not have been surprised that Robin Roberts asked about Rihanna. Reportedly, Robin asked the 22-year-old singer if she could include interview questions about the 2009 assault before they went live and he agreed.
Roberts "insists" both she and other GMA staffers spoke with Chris before the interview, asking if it would be okay to ask him some Rihanna-related questions, particularly about the legal issues surrounding the domestic abuse case, according to TMZ sources.
Article continues below advertisement
And Chris allegedly was fine with that.
Robin insists, "I'm pulling for the guy," according to a TMZ source, and claims she was not trying to set him up.
This morning when Robin asked about the assault against then girlfriend Rihanna and a recent decision by a judge to relax the restraining order against him, Chris began to look uncomfortable and tried to keep the interview focused on his upcoming album, F.A.M.E.
"It's not really a big deal to me now, as far as that situation. I think I'm past that in my life. Today's the album day, so that's what I'm focused on," he said.
Chris was sentenced to five years probation and 180 days of community service after pleading guilty in to assaulting Rihanna in February 2009.
He is in NYC to promote F.A.M.E. and after he did his slated performance, Chris allegedly became violent, smashing a window in his dressing room and leaving GMA studios shirtless.