NEWS
Chris Brown & Kanye West Interview Outbursts: Who's to Blame? Interviewee or Interviewer?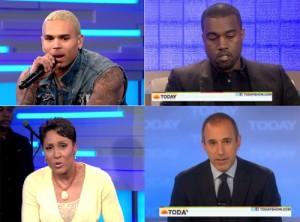 Chris Brown stormed out of a Good Morning America interview today when he was asked a tough question about Rihanna. Kanye West recently experienced the same type of tough interview when he was asked about former President George Bush and Taylor Swift. So who's to blame for the uncomfortable situation? The interviewee or the interviewer?
OK! NEWS: CHRIS BROWN GMA OUTBURST: SINGER SMASHES WINDOW & STORMS OFF SET SHIRTLESS
Article continues below advertisement
Chris appeared on Good Morning America this morning to promote his new album, but Robin Roberts also asked him about the current status of the restraining order filed against him after he allegedly beat his former girlfriend Rihanna.
"It's not really a big deal to me now, as far as that situation," Chris said. "I think I'm past that in my life. Today's the album day, so that's what I'm focused on."
After a few more questions from Robin and some more about Rihanna, Chris continued with his scheduled performance on the show.
How did he react to the tough interview after? Chris reportedly stormed into his dressing room screaming and smashed a window, ABC News reports.
Watch Chris' Interview with Robin below!
OK! NEWS: KANYE WEST TWEETS — MATT LAUER TRIED TO "FORCE MY ANSWERS" ON TODAY
Kanye appeared on Today to respond to Bush's calling Kanye's comments one of the "most disgusting moments" of his presidency.
"I didn't need you guys to show me the tape to prompt my emotions," Kayne said of the interview. "I came up here because I wanted to say something right after the fact. This is the reality, this is the real thing going on. I don't need all the jazz."
Article continues below advertisement
Matt also brought up the Taylor MTV VMA incident. The Today show played a segment of Kanye and Taylor on stage while Kanye was answering questions and he seemed to get frustrated by the background noise.
"How am I supposed to talk when you're running this thing when I'm talking?" he asked Matt. "It's ridiculous."
How did he react to the tough interview? By Tweeting his anger out against Today and canceling his scheduled performance on the show.
Watch Kanye's interview with Matt below!
Both Chris and Kanye were faced with similar situations in their interviews where they were asked something they no longer wanted to talk about. While the stars handled the situations slightly differently, they still ended up making headlines after for the wrong reasons.
But who should be blamed? The interviewees for not handling the tough questions appropriately. Or the interviewers for asking the questions?