Archive
OK! Exclusive: Bethenny Dealt Major Blow In Battle With Sonja — Inside Their War Over Tipsy Girl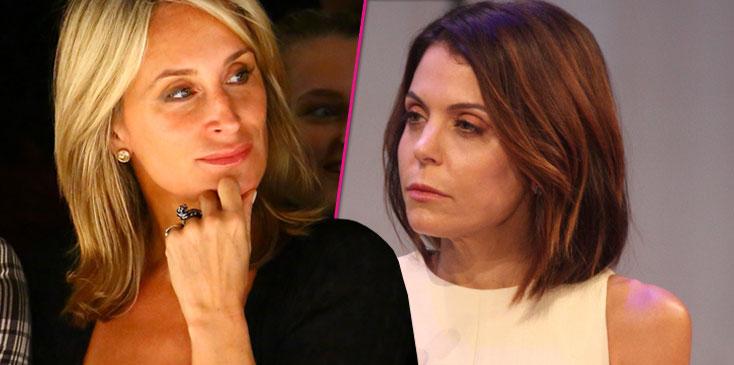 Bethenny Frankel may be winning her divorce battle, but she's trailing behind in her boozy battle.
The Real Housewives of New York City star has made quite the stink over Sonja Morgan's work with Tipsy Girl, going as far as filing a move to trademark the name. However, the SkinnyGirl mogul was dealt a major blow in her costar cat fight.
OKMagazine.com has learned that the 45-year-old's move to trademark "TipsyGirl" was suspended on April 11 by the U.S. Patent and Trademark Office because it was already trademarked in June 2015 by Tipsy Girl's CEO, Peter Guimaraes.
Article continues below advertisement
And while Frankel reportedly attempted the trademark to cause problems for her costar, whom she believed was trying to copy her $100 million business, her plan backfired because Morgan doesn't even outright own the company!
Guimaraes told OK! exclusively that he trademarked the name and he "didn't bring in Sonja Morgan until a much later date until November 2015." He added: "Sonja Morgan did not come up with the concept Tipsy Girl."
Morgan's business connection said that his company is not meant to compete with SkinnyGirl, Bethenny's "low calorie" alcohol concept, despite her claims in the past that Tipsy Girl rips her off.
"They are in no way similar," he said. "Tipsy Girl is all about high quality, well-priced alcohol and restaurants with a fun atmosphere, and high quality food."
He continued: "I've been in the business far longer than Bethenny and been using the name Tipsy Girl back in my 20's when girls would come to my bar. I never even heard of her or the brand until I met Ramona Singer and Sonja. No one is trying to copycat her."
Peter said Frankel was served with a cease and desist in January.
Morgan recently told RadarOnline that she believes Frankel broke the old adage and took business personally when she filed the trademark. "I think she basically took it personally that I had done a brand with the name 'girl,'" Morgan told Radar. "She supports me, but at the same time, she thought that was a personal insult to her."
Guimaraes said Tipsy Girl alcohol will be available in stores in early May along with "the first of many Tipsy Girl restaurants," the first outpost being at 45 West 8th Street in NYC, in May.