Archive
Brad Pitt Covers British GQ, Talks Marriage To Angelina Jolie And Respect For Shia LaBeouf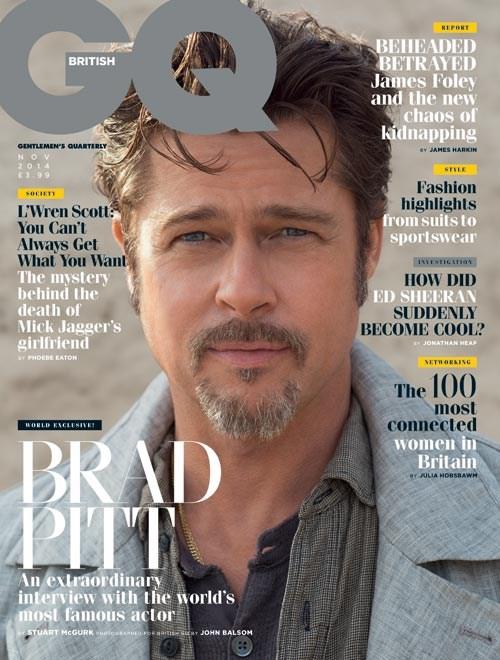 Brad Pitt gets personal in the November issue of British GQ, sharing his thoughts on marriage, his celebrity friendships and his acting career.
The newlywed, who married his long-time partner Angelina Jolie in a private ceremony in France on August 23, says he takes his wedding vows seriously. "I wouldn't say marriage is just a title. There's more to it than that," the magazine's cover star says.
He also talked about his close friendship with George Clooney and his reaction to the actor recently describing Pitt as "unreachable." "Well, you know, George is extremely accessible. He's one of our best representatives. He's funny as shit. He's a joy to be around," Pitt explained.
Article continues below advertisement
"I'm a bit of a loner you know?  I'm more quiet by nature.  And coming from, you know, hillbilly country, I'm probably more reserved," he continued. 
Pitt also shared his adoration for Shia LaBeouf, his co-star in the upcoming film Fury. "Oh, I love this boy. He's one of the best actors I've ever seen. He's full-on commitment, man. He's living it like no one else, let me tell you. I've been fortunate to work with a lot of great actors. He's one of the best I've seen," Pitt said. 
Described by British GQ as "the world's most famous actor," Pitt told the magazine that he is now giving up screen time to focus more on his family and projects outside of acting. "I've been slowing down for a while now. And slowly transitioning to other things. And, truthfully, I do want to spend more time with my kids before they're grown up and gone," Pitt said. 
And if you were hoping that the Hollywood legend would join his fellow actors on Twitter, your wait will have to continue. Pitt says he has no intentions to even "bother with it."