Archive
OK! Exclusive: Dana Cody Talks The Secrets Of Boss Nails' First Season, Why Nicki Minaj Is Her Dream Client And What Her Friend Blac Chyna Did To Help Her Business Grow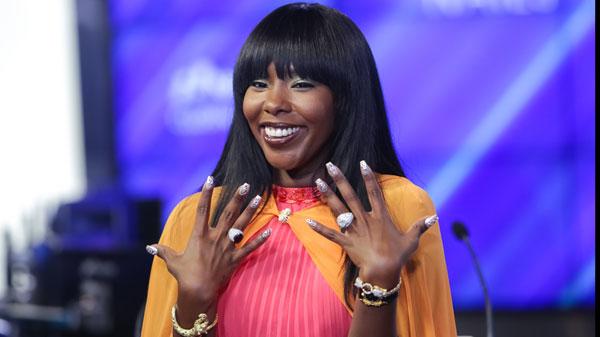 Several hours into a hectic New York City afternoon capped with a stop by the NASDAQ MarketSite to ring the closing bell, Dana Cody's smile remained as vibrant as the metallic grey polish and gleaming crystals that adorned her meticulously designed finger nails. Wearing a sleeveless dress blocked in shades of salmon, crimson and orange and cinched with a burgundy belt, a sense of caution marked her deep brown eyes, quietly contrasting with her fearless fashions for the day.
Article continues below advertisement
"I wanted to be an attorney," Cody recalled defiantly. "My mother was a nail tech, so I grew up playing with polish instead of Barbie dolls. So when it's something like that, you don't really look into it. You take it for granted because it's not even important to you like that."
Despite her initial plans of conquering the courtroom, when she was around 19 years old, Cody partnered with her late mother to open up the first Tippie Toes nail salon location in Miami, Florida. Cody took on the responsibility of helping her mother run the shop during it's early days. However, it wasn't until her mother fell ill with Leukemia a few years after the store's opening that Cody said she fully understood just what their nail shop meant to both her family and its team members.
Article continues below advertisement
"That's when I realized. It hit me like, 'I have to do this. This is all my mother has going. This is how we've got to pay the mortgage. She's in the hospital. She has this team of people that work under her.' It just hit me," Cody said. "Either you're going to run away from it or you're going to do it. And I love my people, and I love my mom so much that it was a given. How can I say no to her while she's laying there in the hospital. How can I say no to them."
Using the nail tech skills and business savvy her mother fostered, Cody has since led the expansion of the franchise to a second Tippie Toes location in Los Angeles, California, landed the reality TV show Boss Nails to push the her passion even further and is now working on her new Imperial Nails venture -- a custom-made set of luxury nails molded to fit the fingers of the clients that purchase them. And Cody even found a little time for romance, meeting the love of her life, George Teichman, during a chance encounter at Tippie Toes' Miami salon.
Article continues below advertisement
OKMagazine.com: What's been the biggest surprise of bringing your business to reality TV?
Dana Cody: Keeping myself mentally strong. I own Tippie Toes and the show is about being a boss and everything, but I have to be strong for my staff. So if they would have seen me breaking down -- and I did break down at home -- they would have started to get nervous. They look to me to me for everything, and I had to really just act like I knew what I was doing even though I didn't know what I was doing!
Article continues below advertisement
OKMagazine.com: What is it like having to lead such a large team as a 27-year-old?
Cody: Right now, I think it's second nature to just do what I do. I don't even think too in depth about it. You'll hear me say on the show that my staff are my bosses. They sit down and they tell me, "This is what we need at the shop. This is what we need to do. We need to go to this event." We help each other collectively make that movement. And they know that if we tell Dana what we need to be done, she's going to do whatever it takes to get us there. My job is to keep my team happy. If my team is happy, my client's happy. If my client's my pocket are happy, and we're good to go!
OKMagazine.com: So you all are basically like a little family.
Cody: It is family! And that's really what you're going to see. We are a crazy ass family, but we get it together, though!
OKMagazine.com: What was one of the most surprising parts of the process of taping the show with your team?
Cody: Watching them. I think that was more exciting to me. Watching the staff come together the way they did and do each other's makeup and get each other together. When one was nervous like, "Wait! I've got a camera right there, and I have to do this full set of nails," they came together to get it done. I was like a proud mama.
Article continues below advertisement
OKMagazine.com: Was it tough having to do the nails on camera and know that every detail would possibly be shown in HD.
Cody: It was tough! But I have some of the best nail technicians in the country. If anything, we can do some nails with our eyes closed, so I think that was the easiest part. The only thing that we were upset about was sometimes you have to things over. And we're like, "Wait a minute! My acrylic is drying, man. You didn't get this!" But other than that, it's not really invasive. You do you and you really forget that the cameras are there until the conversations become so explicit that they are like, "Wait a minute, guys. Can we reel that in?"
OKMagazine.com: Now you've previously said that your favorite style of nail is the stiletto nail. Why are you drawn to that type of nail?
Cody: When I see stilettos, I see a vixen. I see that sexy boss. Ovals are cool. Square - - that's nice, classy and professional. But when you see a chick with stiletto nails, you can't help but be like, "Can I see your nails!" Even if it's a plain black polish, they're just sexy. I think Rihanna really helped to get that going.
Article continues below advertisement
OKMagazine.com: She is the main person that comes to mind when I think of that trend!
Cody: Yeah, but she was behind. It was Dana Cody first! She saw one of my pictures … Nah, I'm joking! (*Laughs)
OKMagazine.com: Now you are also married to George Teichner and have pretty huge family, including The Real Housewives of New York City's Aviva Drescher being your stepdaughter.
Cody: I have five stepchildren, 12 grandchildren and about 8 great-great grandkids.
OKMagazine.com: Did you have any worries about having your personal life on your show?
Cody: When it's your life and you're in your truth, you don't see nothing wrong with your life because you're on the inside looking out. So people may look at me and look at George and look at the situation and be like, "This is awkward." But that's because they don't understand. It's not really awkward to me. That's my husband. That's my best friend. That's my ride-or-die partner. These are his children, and they accept me for me. They love me for me. I love their kids and we have that relationship. So it's not difficult. They're not making it hard for us to be a real family.
Article continues below advertisement
OKMagazine.com: And you can do their nails!
Cody: Actually, they don't bother me for that. When me and Aviva get together, we go get our nails done together.
OKMagazine.com: Did Aviva give you any advice as far as doing reality TV?
Cody: She did. She would say, "Cody, relax and just be yourself." You really can't give tips on a reality show. If I was acting that would be one thing. But I would contact her and be like, "I'm freaking out" or "14 hours of filming, is that normal Aviva?" But we did have a really great relationship,and I think I called Aviva every week. I would just vent to Aviva, and she'd be like, "Cody, yup! That's reality TV."
OKMagazine.com: What have you had to overcome or learned about yourself in the process of bringing Tippie Toes' story to TV.
Cody: We recently just did T.D. Jakes' show, and he said something that really touched my heart. He said, "You're emulating your mother and you're not her." And it hit me. I couldn't stop crying because all these years I'm just trying to do what my mother would want me to do. And you'll see that throughout the show. But I'm not her. I'm Dana Cody Teichner, and I have to run Tippie Toes how I have to run it. She laid the foundation, so I'm going to take it and run with it. But this is all me.
Article continues below advertisement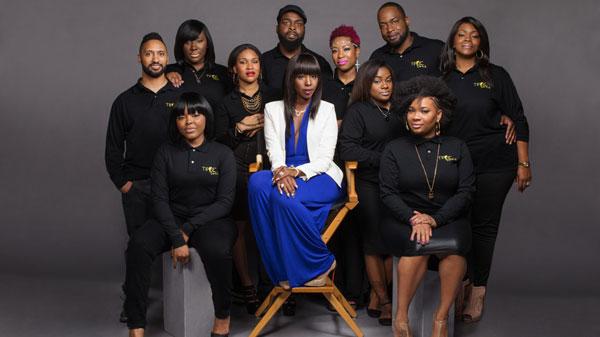 OKMagazine.com: Who is one of your favorite celebrity clients?
All of them, like K. Michelle and Keyshia Cole and Lil Kim. The first time I did Lil Kim's nails I was shaking. I was so nervous because I knew she had an event to go to and I know that time is money. And she just was like, "Baby, you're good." And I was like, "Whew!" I gave her a full set of treasure nails with stiletto tips and she loved them. My very close friend Black Chyna, she helped treasure nails get to where they are because that was just like me practicing. Like girl, "Let me put these Swarovski crystals on your nails." She loved it. She stuck with it. And she helped that brand go. She went to see Puff and Cassie saw her nails and was like who did them and she was like, "My friend Cody." I got the phone call. Teyana Taylor, she's cool too.
My clients and our VIPs, they just trust Tippie Toes and the brand. They let us do us. We tell them, "What are you wearing? Where are you going? This is what you're gonna wear."
OKMagazine.com: When you're building a relationship with a celebrity client, when do you decide when that business relationship has possibly morphed into a friendship?
Cody: You'll know that based off of your clientele. From a professional standpoint, you keep your mouth closed and your ears closed, especially if it's a new client. When I first start doing certain clients, I take my headphones and I ask them is it okay. Because I don't want to hear what you said. If anything is spread, it didn't come from out of your nail tech's mouth. But once they open that door, then that's on that. To each his own. I don't want to hear certain things, but you get that bond. They know who's real and who's fake. And if they feel as if you're real and they can confide in you, then they do. But it is a risk on you as a professional.
Article continues below advertisement
But you hear it all. You see it all. You're doing them when they are themselves. When they pull of the wig and there's nothing there! But most importantly, they're human beings just like everyone else.
OKMagazine.com: What celebs do you think have the best nails?
Cody: I love Nicki! I'm going to get her. Nicki, I'm coming for you. I need to get you right. And it was one movie, Beyond the Lights. If you look at Gugu Mbatha-Raw, every scene she's wearing hot nails in that movie. Whoever directed that, they paid attention to the details. Even though she was pretending to be a pop star, that's how a real pop star is supposed to be. She had yellow, pink, stiletto, short. I love Taraji P. Henson's nails. Cookie is fly with her nails. But besides Rihanna -- because Rihanna keeps her nails poppin' -- on an everyday basis, Nicki.
OKMagazine.com: And exactly what type of style would you do on Nicki's nails?
Cody: Nicki would get a full set of Imperial Nails, and I would make hers 14K with those VS1 diamonds. I would give her six-pointer diamonds. I want her s--t glistening, and they would retail about $50,000. That's what I'm going to do for Nicki. In fact, I'll do them for her. I just need to send her that mold, and we'll get it going.
You can catch the latest episode of Boss Nails on Tuesday at 9:30 p.m. EST on Oxygen.