Archive
Bringing Back The Holidays! Haylie Duff Talks Holiday Plans, Her Sister Hilary's New Man & More!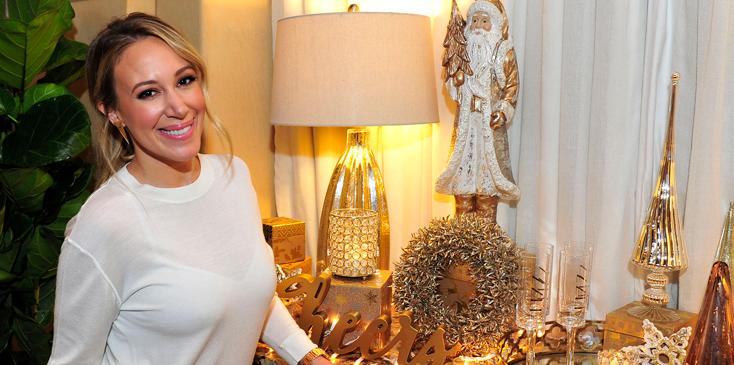 In an exclusive interview with Haylie Duff gave us the inside scoop on what the Duffs have planned for the holidays, their most special family traditions, and her recent partnership with T.J. Maxx, Marshalls and HomeGoods.
"I have been reflecting on a lot of our family holidays especially being a part of this campaign and I realized we're very food centric," Haylie shared. "Most of our traditions revolved around the kitchen and the thing that stands out to me is my mom makes Turducken. Most people think it's some kind of great myth in the world but my mom makes it. She makes my grandmother's stuffing every year. We certainly watch a ton of holiday moving together."
Article continues below advertisement
The Duffs also like to keep it casual something that Haylie said is a key part of her family's holiday celebrations.
"We're just pretty low key," she said. "We always open champagne early and we're usually cooking in pajamas. We're a very casual family."
And while many people become stressed around the holiday season Haylie said she plays it cool and offered advice for those who become overwhelmed this time of year.
"One thing I've told people with the holidays, cooking in particular – don't make something that stresses you out. If there's something you're intimidated to make maybe just don't make it," the TV host said. "Take the pressure off yourself and make things you're comfortable with. Do your prep work ahead of time. Set out your dishes the day before. Try to be as stress free as possible."
And when it comes to who's invited to the Duff's upcoming family Thanksgiving, in Texas, Haylie remained mum about her sister Hilary's new man's, Jason Walsh, attendance -- but admitted that he's definitely welcome.
Article continues below advertisement
"I don't really know what Jason's plan is. I haven't really talked to Hilary about it," she said. However, "we normally have some stragglers, either people show up unannounced or people that don't have family out here and they come and share it with us."
In the holiday spirit, Haylie has partnered with the Bring Back The Holidays campaign to make sure you too have holiday memories to share.
As part of the campaign, T.J.Maxx, Marshalls and HomeGoods are inviting people to share how the retail stores and Haylie can help bring back the holidays by using the hashtags #bringbackholidays and #contest on Twitter.
To enter for a chance to win a personalized phone consultation with Louise Roe (author of "Front Roe- How to be The Leading Lady in Your Own Life") and the perfect gift for that special person make sure to tweet your story using the campaign hashtag, from Dec. 5th to Dec. 16th.