Archive
Michelle Williams Talks To OK! About Returning To Her Gospel Roots With Deitrick Haddon For Oxygen's Fix My Choir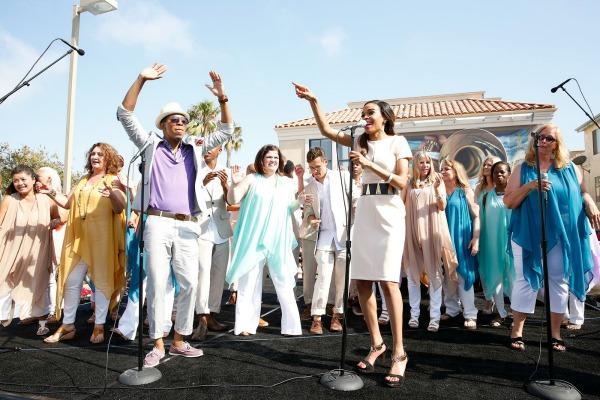 Michelle Williams made a name for herself in the music industry when she joined Beyoncé Knowles and Kelly Rowland to complete Destiny's Child. But the songstress began showing off her singing skills way before joining the talented trio when she performed in her Rockford, Illinois church choir.
With singer Deitrick Haddon by her side, Williams is returning to her gospel roots by traveling across the country to help struggling choirs for Oxygen's new reality show Fix My Choir.
Article continues below advertisement
"I'm just going to go back to those things that I still am passionate about and pick from those areas," she dished to OK! when asked how she is going to mentor the groups. "I try to show professionalism and show wisdom in certain areas that I think people could definitely benefit from."
But teaching choirs how to hit the right notes and to use body movement when singing are only surface issues. Williams and Haddon get personal with the members to successfully resolve core problems.
Article continues below advertisement
In the season premiere, viewers meet Joshua Kagler & Harmonistic Praise Crusade. After almost losing his life during Hurricane Katrina in 2009, Kagler helped unit the community though gospel music.
"For me, it's just really helping people reach their goals," Haddon explained of the importance of fixing choirs in need. "I can say that the experience of taping the show was kind of life-changing for me, because it put things in perspective."
PHOTOS: Let's Look Back at the Epic Fashion of Destiny's Child
With Williams' experience and Haddon's impressive background of releasing 11 albums and receiving a Grammy nomination, struggling choirs are in good hands, as the mentors are able to make up for what the other lacks.
"If I get too emotional about something Deitrick will reel me back in," Williams said, as Haddon added, "We do a great job at balancing each other out."
Article continues below advertisement
Williams and Haddon's passion for music and genuine desire to help struggling choirs in need is enough to have even the most tone-deaf viewers up on their feet dancing and singing along to the music.
"Michelle and I both are very passionate about what we do," Haddon said. "You're going to see on the show that we're very serious about what we're doing and getting those choir members and those choirs on track… it's going to be fun. It's going to be great TV."
Fix My Choir premieres tonight at 10pm ET/PT on Oxygen. Are you ready to feel the music? Tell us in the comments below or tweet us @OKMagazine.com!