Archive
O.J. Simpson's Secret Graveside Confession REVEALED — What The Jury Never Heard!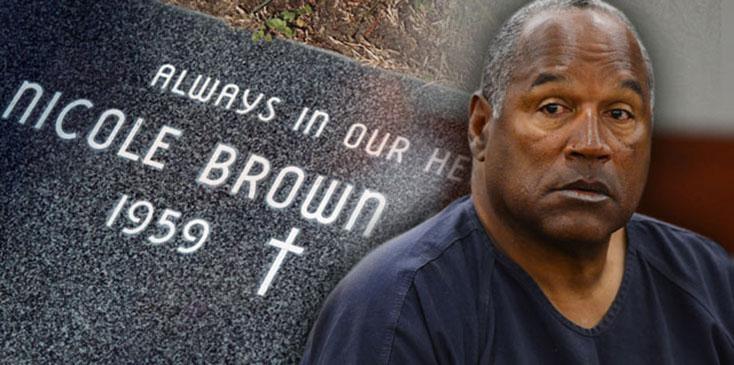 The biggest bombshell of the O.J. Simpson murder trial has been secret for years: According to an insider, three weeks after his acquittal, an ice-cold O.J. stood at his ex-wife Nicole Brown Simpson's grave and brazenly admitted to butchering her and her pal, Ronald Goldman!
The shocking secret confession came just three weeks after The Juice was acquitted of their murders, according to an eyewitness who accompanied him to Ascension Cemetery in Lake Forest, Calif.
Article continues below advertisement
Article continues below advertisement
But before her death, it was previously reported Nicole had penned a secret diary detailing the vicious attacks she endured at O.J.'s hands.
She described the abuse — not seen in the FX series The People v. O.J. Simpson: American Crime Story — as a "living hell," and wrote that she believed O.J. would one day kill her.
With O.J. now serving time in Nevada for armed robbery and kidnapping, a renowned psychotherapist said he was "likely in shock" over the "Trial of the Century" when he admitted to the slayings at Nicole's grave.
MORE ON:
Nicole Brown Simpson
PHOTOS: The Most Infamous Cold Case Murders
"He probably thought this would never get out," Dr. Gilda Carle told Radar. "O.J. may have called it an accident because he probably didn't mean to kill her. And he really was sorry Nicole was killed. After her death, he no longer had her to push around!"
In another repulsive act, O.J. A source claimed ex-galpal Paula Barbieri demanded $1 MILLION to keep quiet about what she knew about his role in the murders of Nicole and Ron.
Article continues below advertisement
The declaration was recorded on tape on Sept. 17, 1997, while O.J. and his then-agent, Mike Gilbert, were discussing Paula's upcoming appearance on a TV talk show.
PHOTOS: Celebs Involved in Murder
O.J. blustered that people who wondered whether he paid Paula for her silence would forget that "when I went down there, Paula wanted $1 million. Wasn't like she didn't want any money, she wanted more money!"
For more on what really happened, look into the secret files of the most feared newsroom in America — as The National ENQUIRER exposes the real story behind Hollywood's wildest scandals and sensational crimes, in National Enquirer Investigates! This week, find out if O.J. Simpson really killed Nicole Brown Simpson and Ron Goldman, Saturday night at 9 ET/PT on Reelz Channel.