Archive
Rihanna Hot To Trot With Brad!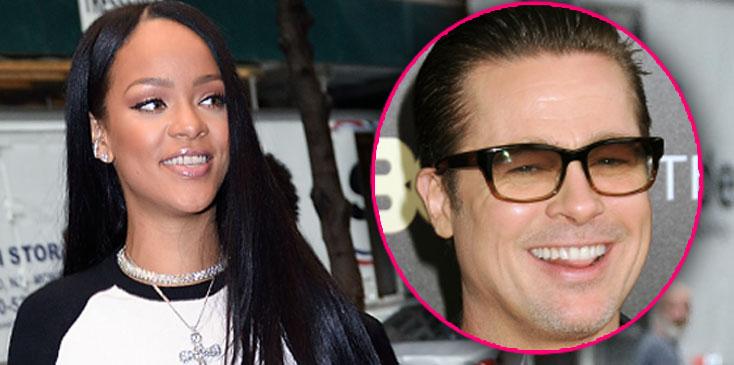 Pop sex kitten Rihanna has had a major crush on Brad Pitt since she was a schoolgirl in her native Barbados, and now that he's single, the slinky songbird's set to sink her claws into the movie hunk.
"You look at Brad Pitt and it's like, 'Damn!'" she gushes to friends.
The Grammy-winning 28-year-old's so determined to land Brad, 52 — now locked in a nasty $480 million divorce war with estranged wife Angelina Jolie — she's had a life-size portrait of the Fury star placed over her bed and tells pals, "There hangs my future husband."
Article continues below advertisement
Dishes an insider: "Now that Angelina Jolie's kicked Brad to the curb and filed for divorce, RiRi's romantic fantasies can finally become a reality.
PHOTOS: Drugs! Affairs! 10 Secret Signs Angelina Jolie & Brad Pitt Were Headed For Divorce
"She's wanted to get it on with him for years."
And it's perfect timing for the red-hot singer since she just ended her relationship with rapper Drake!
But some pals are warning Brad may have a dark side. The FBI and child-welfare authorities were asked to investigate allegations following an ugly Sept. 14 incident on a private jet involving Brad and son Maddox, 15. The FBI refused to probe Pitt.
Rihanna was the victim of abuse when she was savagely beaten by then-boyfriend Chris Brown in 2009. He later pled guilty to felony assault.
PHOTOS: The Shocking Divorce: Inside Angelina Jolie & Brad Pitt's Miserable Last Days
But Rihanna has been a shadow lurking in Brad's marriage since she performed at his 2012 Make It Right charity concert in New Orleans.
Angie flew into a rage and warned him to "stay away from that woman."
Now Rihanna desperately wants to comfort Brad during his ugly divorce.
"Rihanna's been a thorn in Angie's side for years," says a source. "She'll explode if she finds out Brad rebounded into Rihanna's arms!"