Archive
Court Bombshell: Robin Thicke Loses Custody Of Son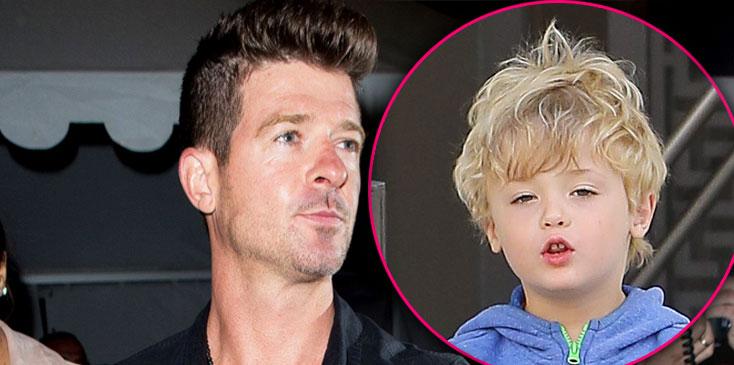 Robin Thicke has lost custody of his young son as his bitter battle with Paula Patton rages on, RadarOnline.com has learned.
The "Blurred Lines" singer and his ex appeared in a Los Angeles court on Thursday morning, and a judge denied his request for temporary sole custody. Not only that, but also, Thicke was slapped with a restraining order forbidding him from going near Julian, 6, Patton, 41, or her mother.
Article continues below advertisement
The parents have been fighting since the beginning of the year, when Patton accused Thicke of excessively spanking their son. A teacher and the principal of the child's school gave statements to the court saying that independent of his mother, Julian had told them that his father hit him "hard" and that he did not want to be around him.
A judge previously denied Patton's request for Thicke to have modified custody and supervised visits of their son, and on Thursday, the judge revoked custody from him.
PHOTOS: Cops Called To Paula Patton Home In Continuing Custody Fight With Robin Thicke
Both parents had asked for custody of the boy, but the judge denied Thicke's request. For his part, Thicke claimed that his ex-wife was being investigated by the Department of Children and Family Services for "emotional abuse."
At the same time, his lawyer also claimed that DCFS had told Thicke that their investigation into him would be closed because Patton's claims were "unfounded."
Article continues below advertisement
As Radar previously reported, on January 13, 2017, Patton told the judge that Thicke should not be around their son because of his harsh punishment of their child.
"I have become concerned about Respondents drinking and drug use, as well as the forms of punishment he is using to discipline Julian," Patton wrote in her court documents.
Patton also wrote that Julian's behavior changed when she asked him to tell her about the spankings. "He became very angry and tense and yelled at me that if I told, he would never tell me anything about Robin again."