Archive
Wow—You Have to Listen to This Nickelodeon Star Cover a Whitney Houston Song!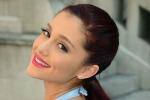 Whatever happened to real music, you ask? Whatever happened to raw talent? To real voices, not pipes drenched in Auto-Tune?
Watch: The most powerful performances of the national anthem ever!
Well, stop complaining and listen to this Nickelodeon star cover a Whitney Houston song. Ariana Grande is an actress who has starred on Nick's Victorious as well as its upcoming spinoff, Sam & Cat. In between acting and looking like an adorable, petite '50s pin-up gal, she also has a voice that will make the hair on your neck stand up and say, "Whoa, who the flip was that?"
Article continues below advertisement
What do you think of this cover? Are you a fan of Ariana? Do you kind of feel like belting alone in your house about now? Tell us in the comments or tweet us at @OKMagazine.