BABIES
Adam Sandler to Be a Big Daddy Again!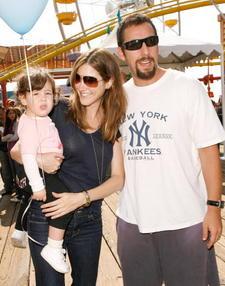 Sadie Sandler is going to be a big sister!
Adam Sandler and his wife Jackie are expecting their second child together, he announced on The Tonight Show with Jay Leno on Wednesday.
Jackie, 33, is nearly four months pregnant and is overcoming a rough first trimester marked by "all day" morning sickness, according to the comedian.
"She's very sick. She's going through a lot," he told Jay. "My wife gets it very bad, she vomits a lot -- morning, afternoon, the whole deal. My little daughter is always looking at her and is nervous to see her mom sick like that."
Article continues below advertisement
Thankfully, Adam, who pregnancy rumors in December, knows exactly how to pacify 2-year-old Sadie's worries.
"I say 'Mommy's not bad sick,'" he says. "'She just has something growing in her that's eventually gonna shoot out her vagina and take half your toys. She's better now.'"
Getting serious, the 41-year-old You Don't Mess with Zohan star reveals he's been doing all he can to soothe and ease Jackie's pain, reassuring her that it's all worth it in the end.
"I would rub her back and go, 'It's worth it. We're going to have another beautiful baby. I love you. Thanks for doing this.'"