BABIES
After Two Boys, Gavin Rossdale is Ready for a Girl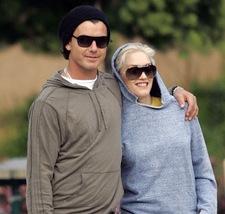 Gavin Rossdale and Gwen Stefani could easily be the first couple of rock. The cool pair are parents to two of Hollywood's cutest kids, Kingston and Zuma, and when OK! caught up with Gavin he hinted that there may be more children in store.
But first, both Gavin and Gwen are about to embark on tour, separately. Wrapping up a year of one-off acoustic shows, Gavin did one last acoustic set March 28 at "One Splendid Evening," a special concert on the Carnival Splendor cruise ship to benefit VH-1 Save the Music and kick off John Mayers' Mayercraft Carrier 2 cruise to Cabo.
Article continues below advertisement
OK!: What would be your ideal splendid evening?
My splendid evening? That would start out with some really good swimming, a game with the kids or something physical, like running, because when the kids run and laugh it makes it feel like everything in your life is worth it.
So, we'd start with that and then dinner with a load of our friends at our house or somewhere out, and then going to see TV On The Radio, then come home and the kids would be asleep and happy and then Gwen and I would watch As Good as It Gets because I could see that film 25,000 times—it's one of my favorite films.
OK!:How did you get involved with the kick-off event for John Mayer's cruise?
I've done some work with Save the Music before and I guess I didn't screw up so they asked me back. It's a great foundation and it's my last acoustic-y thing before I go on tour and go back to electric loud music right after that.
OK!: You're headlining a tour starting next month, and you're taking Kingston on the road?
Yeah, he's coming to Seattle and Portland with me, the first couple of shows and I'm really looking forward to that. They keep trying to throw things into my schedule to do during the day and work but I'm like, 'Nooo, I'm busy.' I'm looking forward to it, I think it's going to be a lot of fun.
Article continues below advertisement
OK!: What do you love about touring?
My favorite thing is the mindset you get into because it's like going away and it's so challenging to play five/six nights a week. It's so arduous with the traveling, the singing, the playing, the sweating, the calming down and the staying up late. I love the challenge of it because it's not for everyone, and when you can find yourself in extreme situations that you're able to survive in, there's something really great about that.
OK!: What are your tour bus essentials?
Well, it's gotta have all different kinds of liquid from hot tea to cold beer and everything in between. I like when people come to visit, I don't want them to be left wanting. Then I need some food and some movies and some books and some acoustic guitars and phone chargers, obviously. That's pretty much the simple side.
OK!: With their genetics, do you foresee Kingston or Zuma being musicians?
Article continues below advertisement
You'd have to ask them, they both certainly have enough opinion to figure it out for themselves. It's really up to them and I'm sure they'll make a decision about it. For now they're really into doing everything.
OK!: How has Kingston adjusting to being an older brother?
He's become super sweet about it, very protective over Zuma. At first it was best not to leave them alone, but now Kingston's just turned a corner and just a real sweetheart with him which is so sweet and just a relief because it can go the other way.
OK!: Do you see big differences in personality between Kingston and Zuma?
Oh, yeah, Kingston is super feisty and Zuma is relaxed and chilled out, but Zuma is only five months so he's got time to show more of himself.
OK!: Do you want to have more kids, maybe a little girl?
Well, that would seem logical, but so would sleep. Sleep would be nice, and a bit of selfish time, which isn't around the corner just yet. But, the men aren't in control of that stuff, as you well know.
OK!: Would you ever do a musical collaboration with Gwen?
No, no, we've kept it separate. We come from such band mentalities that it's something we've really done well to avoid.
MORE OF GWEN, GAVIN THE BOYS: