BABIES
Alessandra Ambrosio Talks Love, Motherhood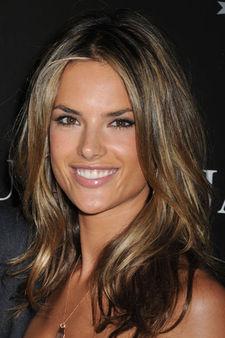 Victoria's Secret model Alessandra Ambrosio is the centerpiece during the Russell James book launch held at Stephan Weiss Studio in NYC. His larger-than-life photographs of her adorn the walls as the sounds of the didgeridoo echo throughout the event space.
The Brazillian-born stunner, 27, is engaged to Jaime Mazur and mom to daughter Anja, five months.
In this interview, Alessandra talks about motherhood, her fiancé, losing the baby weight, why Jessica Simpson should feel comfortable in her own skin and why she wants to raise her daughter in both Brazil and America.
Article continues below advertisement
How has motherhood changed you?
I'm not thinking about me that much anymore. Every time I look, I'm looking for my daughter, you know? If I'm in a store, I'm looking at baby clothes. It's so much cuter to find things for her than to find things for me. That's one thing.
What does Anja do now?
Right now she loves her feet, and she's finding her feet and sucking her thumb. That's the cutest thing right now.
Where would you like to raise your daughter: Brazil or America?
I'm going to raise her both places. Half Brazil and half American, that's how it goes.
In Brazil, there's this thing where people are really happy. Whatever they go through in life, they're really happy, and that's one thing I want her to feel like.
Here in America, people are very professional. They're serious, and that's another thing I want her to have.
Article continues below advertisement
What's the best thing about being a mom?
Having my daughter, and just spending time with her and seeing her grow up. Every day she does something different, and that's what is amazing.
How did you lose the baby weight?
Working out, eating really healthy. Now I'm in my normal routine. I try to do yoga once a week. Basically, that's it right now. I'm back to my normal eating. Fries, barbecue, but I also like to eat healthy.
MORE ON:
Red Carpet Confidential
How do you feel when people like Jessica Simpson are criticized for their bodies? Isn't there room for all shapes and sizes?
I think so. As long as you're feeling good with your weight and the way you look, that's what matters.
How are wedding plans coming along?
We're still talking about it. Nothing confirmed yet.
What do you love about your fiancé?
What I love about him is that he's very confident of himself and he loves me very much and he makes me feel good.
Article continues below advertisement
Booking as much work since you had the baby?
More. I am working pretty much every day. I still want to have time to be with my daughter, but I'm working almost every day.
What is your day like with the baby and the modeling?
Well, I have a family that helps me, and they help me take care of my daughter when I'm working. Of course, when I'm not working I'm with my daughter all the time.
Strangest thing a photographer has asked you to do?
Russell James asked me to shoot underwater. He tied my feet under the water. I don't know how many feet – maybe five, six meters. He tied me underwater and I had no air. Somebody had a tube, and they were giving me some oxygen, but I couldn't really see anything. Everything was blurry. I'm waiting for the oxygen – that was the craziest thing. And I could feel little rice all over my body because they were trying food for the fish. I was surrounded by fish!