BABIES
Alison Sweeney's Having a Girl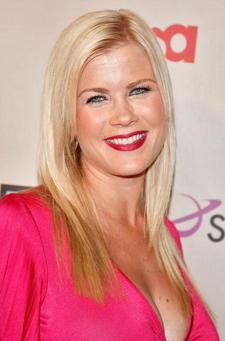 Actress and Biggest Loser host Alison Sweeney is thinking pink!
When OK! caught up with the pregnant show host at a party for NBC on Sunday, Alison revealed for the first time that she and husband David Sanov are soon going to be the parents of a beautiful baby girl. The couple, who just celebrated their eigth wedding anniversary on July 8, already have a 3-year-old son, Benjamin.
"We found out that it's a girl and we're really excited about that," said Alison, who is due on Jan. 20. When asked if she and her husband were discussing names, she laughed, "It's a battle we're waging. It's going to be a long time before we figure that out."
Article continues below advertisement
As for the not-so-pleasant effects of being pregnant, Alison admitted, "I have moments of pretty extreme morning sickness, which has not been my friend, but I get through it and I'm happy to hopefully be past it."
And what about any changes to her diet? "I haven't had cravings yet so much as aversions. Three-and-a-half months so far, all I want is like a bowl of cereal!"
The star, who also still plays the part of Sami Brady on Days of Our Lives, said she's told her son she's pregnant and "I've shown him pictures of the ultrasound of the baby."
Alison, who famously has worked through weight issues herself, said she's still exercising safely during her pregnancy, including taking a spin class with Biggest Loser trainer Bob Harper.
Bob and the other Biggest Loser trainer, Jillian Michaels, "have had lots to say about my workouts. They've taught me well. They were very cautious and concerned for me — they were very cute. The biggest issues are you have to make sure your heart rate doesn't spike a lot and your body temperature doesn't heat up."
The hostess also is currently shooting the next season of Biggest Loser, which premieres in September. Appropriately for Alison, the theme is families!
By Carole Glines