BABIES
Amy Winehouse Wants to Be a Mom?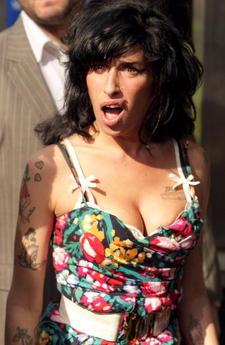 File this one under Maybe Not the Best Idea: Amy Winehouse is said to be seeking to adopt a child from St. Lucia, her current vacation spot/home.
OK!'s British sister magazine reports from the UK that a source says, "Amy is seriously thinking about adopting. But she is aware it's going to be incredibly difficult with her background."
Well, yeah, we can see that. Apparently the "Rehab" star has some mothering instincts she can't ignore.
Article continues below advertisement
"She has always wanted to be a mother. She loves St. Lucia and would move there for good in order to adopt."
The maternal feelings apparently stem from her admiration of Angelina Jolie and Brad Pitt, who have adopted three children. Amy wants to help underprivileged kids on the island.
Amy's spokesman revealed: "Amy was talking about adopting in the context of looking after children on the island, perhaps through some kind of music and education-based project."
Another impetus to her desire to be a parent could be reports alleging that her estranged husband Blake Fielder Civil is expecting a child with the woman he cheated on Amy with in rehab.