BABIES
Ana Ortiz's Baby Shower Plans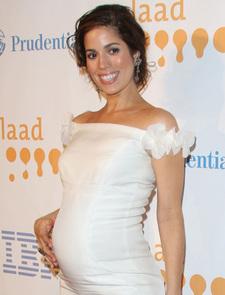 ?Ugly Betty's Ana Ortiz is gearing up for a fashionable pregnancy party, courtesy of the show's costume designer Patricia Field.
"She told me, 'I'm going to throw you a baby shower,' and I started crying," the 38-year-old recently revealed to OK!. The actress is expecting a daughter in July with her husband, Everything is Energy guitarist Noah Lebenzon.
"That's how the whole show is — very much a family atmosphere!" The Ugly Betty cast and crew will join the festivities at Patricia's loft for what Ana expects will be a "pretty awesome" affair.
Article continues below advertisement
"As long as I don't have to play those corny games where they wrap me in toilet paper," she tells OK!, "and I'm there with my friends and having a group of drunk people celebrating babies!"
<strong><em>Have a news tip or great photo you want to tell us about? Shoot us an e-mail: <a href="mailto:tips@okmagazine.com">tips@okmagazine.com</a><em><strong>