BABIES
Ana Ortiz's Broadway Dream Deferred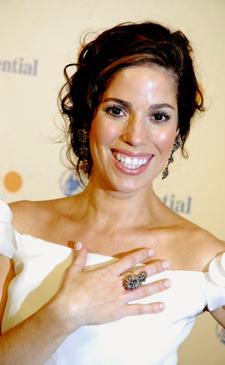 Ana Ortiz hid her baby bump last season on her hit show Ugly Betty but there was one role she was vying for where she couldn't disguise her curves.
"I was actually gonna audition for Chicago and then I got pregnant!" Ana, who's due with a baby girl on June 27, told OK! at the Ambassador Theatre in NYC, where Grey's Anatomy star Chandra Wilson was making her debut performance as Mama Morton in Broadway's Chicago on June 8.
Article continues below advertisement
"I sort of would love to do either Velma or Roxie," says Ana, 38, who wants to "definitely" audition after she has her baby. "It's where I started! It's where all of us in Betty (started). We're all like theatee geeks."
Ana, who starts filming season four of Ugly Betty in just a few weeks, won't have any trouble getting back into shape post-baby.
"Because they didn't write (my pregnancy into the show, it was kind of important to me to try to stay as much in shape as possible," Ana says. "It's the first time I ever worked with a trainer because I didn't know how far to push everything."
With just a couple weeks to go, Ana says she's prepared to run out the door at a moment's notice. Well, almost.
"The bag is packed – mostly," she says. "I need to get some toothbrushes."
By Laura Lane