BABIES
Angela Kinsey Has a Daughter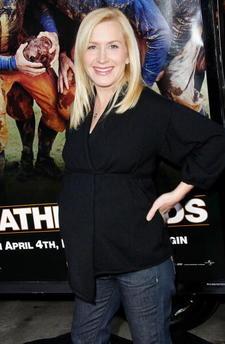 Angela Kinsey needs some more Office space!
The Office star has given birth to a baby girl, her rep has confirmed.
Isabel Ruby was born Saturday afternoon, tipping the scales at 6 lbs. 14 oz. at birth. Little Isabel is the first child for the actress and her husband, actor/writer Warren Lieberstein, the brother of her Office co-star Paul Lieberstein.
Angela, whose pregnancy was not written into the NBC comedy's storyline, was due May 9, and she wasn't the only one counting down to her due date. The 36-year-old shared with Pinks & Blues that there was an Office pool on-set guessing her delivery stats.
Article continues below advertisement
"The crew has started an 'Angela's Baby Pool,'" she said. "They have a calendar and you can buy a square for $10. You pick the date and time. It's pretty funny. I have started having doctor's appointments every week now and you should see how the ladies in the crew circle me after for details. I'll be in the hair and makeup trailer and they'll say coyly, 'So, Ange any news from your doctor?'"