BABIES
Angelina and the Girls' Day Out!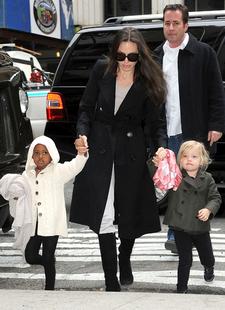 Angelina Jolie had a girls only outing today with daughters Shiloh and Zahara, heading to their favorite NYC store Lee's Art Shop this morning.
"The girls are getting so big!" an eyewitness inside the store tells OK!.
The three went up to the newly reopened educational toy department on the fourth floor where Angie picked out a few games and a deck of cards.
"Zahara and Shiloh were looking at some of the princess-themed rubber stamps in the back on the ground floor for about 10 minutes, and playing in the wrapping paper before they got to pick out some coloring books and markers." the source reveal.
Article continues below advertisement
But don't think the girls were running amok, as "they were very sweet and well behaved," the store eyewitness says. "They said thank you and Shiloh tugged on Angelina's coat whenever she saw something she really wanted, like a set of washable markers. Very sweet family, down to earth and polite."
Sounds like a glowing review from the Big Apple!