BABIES
Angelina & Twins "Doing Great"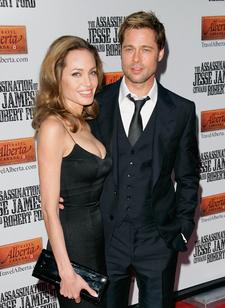 Two days after giving birth to twins Knox Leon and Vivienne Marcheline, Angelina Jolie is "doing great," a rep for the actress tells OK!.
"Mother and children are healthy and doing great," a rep tells OK!.
Angelina is currently resting at Nice's Lenval Hospital, where she is expected to remain for up to the next week.
"I think that Mrs. Jolie will remain hospitalized for seven or ten days", the actress' OB/GYN, Dr. Michel Sussmann, tells Nice-Matin newspaper.
Article continues below advertisement
"You know, in Europe it isn't like in the United States, where the patients go home after three days," the doctor said during a press conference yesterday. "They will stay a bit longer until everything is okay."
Although Angelina wasn't scheduled to deliver for a few more weeks, the Cesarean section was moved up to Saturday for medical reasons.
"We decided Saturday morning to advance the date of the childbirth of ten days for reasons of comfort for the mom," Dr. Sussmann said. "And finally, it was the good choice. The babies are splendid."
The operation took "30 minutes at most" and Dr. Sussmann received some help from "assistant" Brad Pitt in the delivery room.
Knox arrived first at 6:27 p.m., as shown on his birth certificate Nice Mayor Christian Estrosi displayed on Sunday, and sister Vivienne arrived a minute later. Knox tipped the scales at 5.03 lbs while Vivienne clocked in slightly less at 5 lbs. even.
While they're healthy, the newborns need to remain hospitalized to gain weight. The 33-year-old new mom also needs precautionary "medical attention" as this was her second C-section in two years (she delivered Shiloh via C-section as well).
"It is necessary," Dr. Sussmann says.
No worries though -- everyone is still doing well.
"The babies are fine," he said. "The babies are with the mother and father and they are fine."