BABIES
Angelina's Itching for a Baby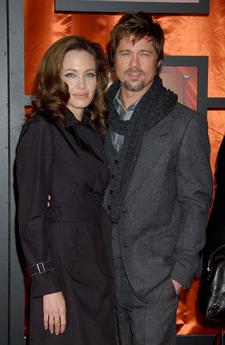 If everything goes according to plan, the world may see a fifth Jolie-Pitt child in 2008.
Yes, Hollywood's ever-expanding clan is ready to make a push for that "football team" of a family they've repeatedly talked about, and what's more — is hoping baby No. 5 will be her second biological child with .
"Brad and Angie are hoping it'll happen soon, before Shiloh gets too much older," a family insider tells OK!.
Article continues below advertisement
For the woman who years ago had knocked down talk of ever having biological children, Angie now can't wait to get pregnant again. But there's just one problem — it's taking longer than she thought. Unlike with 19-month-old Shiloh, the 32-year-old actress has had difficult conceiving this time around and believes it may have something to do with her dramatic weight loss, brought on by the death of her mother, Marcheline Bertrand, last year.
"A family member told her the more she stresses about it, the longer it might take," the source says. "Angie agreed and said she'd talk to Brad about the possibility of using fertility drugs."
As for Brad, he's already making room in their Malibu home to accommodate their plans. Shiloh is moving into a "grown-up" bedroom with a canopy bed while her nursery will be refurnished for their future arrival.
"He's repainting her old room in neutral tones so they have a blank slate for the next addition," a friend of Brad tells OK!.
"They're ready," a Pitt family friend adds. "Brad's family is hoping it'll happen soon."
For more on Angelina and Brad's baby plans, pick up the newest issue of OK!, on newsstands Thursday!