BABIES
Angelina's Political Plans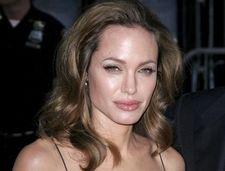 It was confirmed this morning by British officials that UK Foreign Secretary was to take a meeting later this week with one of America's most influential political figures — no, not some senator or cabinet member, but , star of such films as Hackers and Lara Croft: Tomb Raider.
While the details are still to be determined, the content of this meeting of the minds (Miliband prides himself on being the first high-ranking Brit official to blog. Neat!) will likely revolve around Angie's current work as a United Nations Goodwill Ambassador to the High Commissioner for Refugees.
Article continues below advertisement
That, or maybe Miliband just wants an autograph.
Regardless, this confab, sure to dwarf the Camp David Accords or the Yalta Conference in its place in history, will take place this Friday in New York City. Perhaps between trips to FAO Schwartz with her kids.