BABIES
Baby Bronx Wentz Goes Shopping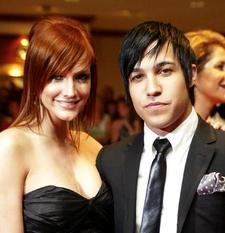 Pete Wentz and Ashlee Simpson Wentz made the new parent pilgrimage to New York's FAO Schwarz today, where 6-month old Bronx Mowgli was the center of his parents' attention.
Mom and Dad helped him "ride" a life-size plush pony in the store, an eyewitness tells OK!, adding, "Bronx was so eager to read books that he tried to turn the pages himself!"
The musical parents also picked out a Stack & Pull toy, a Sporty stroller, and Barefoot books with sing-along CD's for their little rocker.
Article continues below advertisement
So why the toy run? Pete posted to his Twitter page earlier today that the trip was necessary: "Fao schwartz with the babe. Pretty much we bought a bunch of stuff cos he kept putting stuff in his mouth. Woo! Sanitary!"
And fun!