BABIES
Baby Makes Three For Nicole Kidman, Keith Urban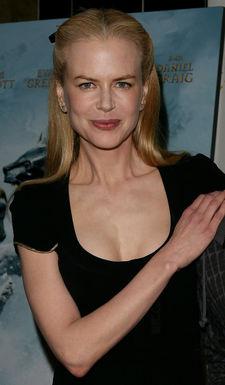 Nicole Kidman announced yesterday that she is expecting her first child with hubby Keith Urban.
I caught up with the Oscar winner in October during the Margot At The Wedding premiere at the New York Film Festival. (She's incredibly tall and pasty white, but very warm and friendly.)
"My sister and I are like twins we're so close," she says. "I'm here in New York now, and she's in Sydney. It's tough in a way."
Article continues below advertisement
How does she feel about being 40?
"I don't really mark my life by numbers or years," she says. "I mark it by events or people … that's how I map the journey of my life. It doesn't mean that much to me, but I'm glad I managed to get this far. I hope I get to double it."
Nicole admits she longs for life in Tennessee, where she now lives.
"I miss seeing the friends and people. I like being able to go out to local restaurants in Nashville. There's something about that routine that's very comforting."
Another thing she yearns for? Bella, 15, and Conor, 12, the children she adopted with ex-husband Tom Cruise.
"She said that she really missed them and they were great," Zane Pais, who plays her son in the flick, tells me.
"I was surprised by how down-to-earth she was," her Margot co-star Hailey Feiffer tells me. "She was always complimenting people on set. I wore a bikini in one scene and I felt really self-conscious. She was like 'you look so good in that bikini.' I was like 'no I don't but thank you, that's so nice.' I was really moved by unnecessarily generous she was."
Sounds like this new baby will get lots of love.
Congrats to the parents-to-be.