BABIES
Baby Talk with Angie Harmon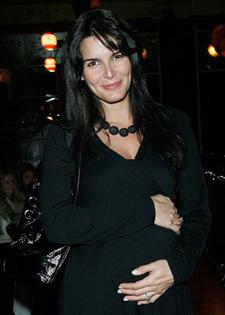 Actress Angie Harmon and husband Jason Sehorn are expecting their third child any day now and the actress tells OK! that he's "the greatest husband on the planet" for helping her through a difficult pregnancy.
Her first two pregnancies — with their daughters Finley, 5, and Avery, 3, were "super easy," but not this one.
When the brunette beauty recently tore a disc in her back, it was devoted hubby Jason who saw to her every need.
Article continues below advertisement
"It was so excruciating. He was unbelievable," she tells OK!. "You know, when you get married and they say 'for better or for worse?' What they really mean is, 'Will you lift her on and off of a bed pan?'"
Angie said Jason was "taking care of the kids and getting them to school and doing the lunches and cooking dinner and in the meantime, I'm like this wretched thing in the bedroom that can't come downstairs."
Now she's put that behind her and it's all worth it to Angie to have their third child: "I can't wait."
Angie's not telling anyone whether it's a boy or a girl, but she does reveal to OK! that she and Jason have already selected a name — and it will be something unique: "I look through the baby-name books to make sure the name I'm picking is not in there. I just don't want everyone to have it!"
While looking forward to having her own third child, Angie also makes time for others. OK! recently caught up with the actress at the California School of Culinary Arts, where she hosted the third annual Thanksgiving party for the Alliance for Children's Rights--an event for L.A. youth who are turning 18 and transitioning out of foster care.