BABIES
Brad and the Boys Hit Vegas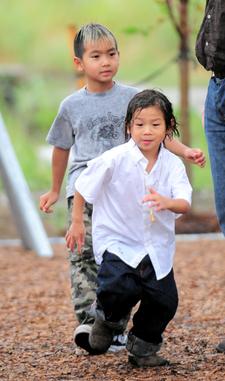 While Angelina Jolie had a mother/daughters day out with Zahara and Shiloh in NYC, Brad Pitt had the two older boys, Pax and Maddox, with him for a boys' night in Las Vegas!
The trio stayed at the Hard Rock Hotel, and although Vegas' main attraction might be gambling for most, Brad and the boys went straight for the video games.
When they arrived, "They were low key" a witness says. "Maddox had a hoodie pulled up over his head but smiled and said hello to anyone that spoke to them."
Article continues below advertisement
And then it was time for fun, as the guys had pizza and ice cream sundaes delivered to their deluxe suite, along with three Nintendo Wiis!
Things must've gotten exciting, as witnesses heard them "hollering" and play until the wee hour of 2am. Hope they got some rest in – Brad and the boys left this morning.