BABIES
Brad & Angie Trying for Baby #7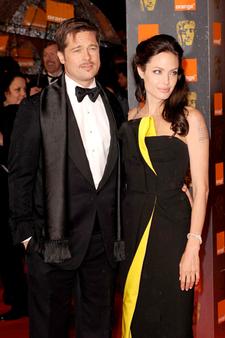 If there's one thing you can say about Brad Pitt and Angelina Jolie, it's that the couple seems to have perfected the motto, "Go big or go home."
The super-pair has made no secret of their wish to have a large family and now OK! has learned that plans are in the works to expand once again!
The couple plans to adopt another toddler and try for a third pregancy simultaneously. "We are going to have more kids — one way or another," Angie, 33, said recently. The mother of six initiated adoption proceedings in January and has been trying to conceive a biological baby. And on Jan. 25, Brad, 45, almost let the news slip when he joked, "We average about two a year, so I guess we're overdue, aren't we?"
Article continues below advertisement
Angie's answer to that? Yes! "Her priority is being a mother," an insider tells OK!. "They are creating one big family and will continue adopting as long as they are able to," Angie's brother, James Haven agrees. But Angie also wants another biological baby with Brad as well. She's been taking pre-natal vitamins and cutting out junk food.
"She really just loves the idea of being a mother and shaping someone's life," the source says.
For the entire story on Angie's desire for a baby, pick up the new OK! — on newsstands everywhere Thursday!
MORE ANGELINA PICS: