BABIES
Brad Pitt is Proud of His Family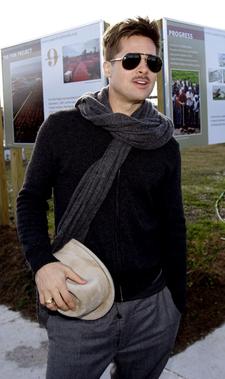 Brad Pitt has a lot to be proud about these days: Not only is his next movie The Curious Case of Benjamin Button already creating a lot of buzz, but he's also a dedicated, busy father who finds the time to give back to his community.
Angelina Jolie's main man recently spoke to Today's Ann Curry in the ravaged 9th Ward of New Orleans, fairly glowing with pride over the progress his Make it Right campaign has seen.
Article continues below advertisement
"Now you see it. There's actually families here who are home for the holidays," he says of the residents who have moved in to their new houses. "And it's really, really cool."
"This time next year, you're going to see 100 homes here," he added, "And not only that ... these homes, what you don't see is the way they work. It's a sunny day. Those meters are running backward. They are off the grid. This is the road to affordable housing that you see right here."
In addition to the growing collection of homes, Brad and Angie also have a growing family, something else Brad treasures.
"I'm really proud of this family," he reveals. "I look at my sons and my daughters, and one's from Vietnam and one's from Cambodia and one's from Ethiopia, and … they're all brothers and sisters. And they're fighting, they're laughing, they're going into hysterics and staying up late, and they're messing with their parents, and they're driving me crazy and I'm really proud.
"I truly feel rich being around them," he adds. "It's a rich home, and each one of 'em offers so much to the mix."
Check out the interview below:
<iframe height="339" width="425" src="http://www.msnbc.msn.com/id/22425001/vp/28012808#28012808" frameborder="0" scrolling="no"></iframe>