BABIES
Brad's a Superdad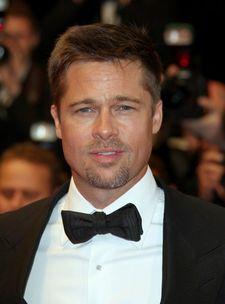 You've got to hand it to Brad Pitt. As Angelina Jolie continues to rest in Fondation Lenval Hospital following the July 12 birth of her twins, the actor has been juggling daddy duty to the couple's four other children Maddox, 6, Pax, 4, Zahara, 3, and little Shiloh, 2.
Playing Mr. Mom is tough, but poppa Pitt is proving he's up to the task, alternating between taking the kids to visit Angie and the twins and caring for them at home.
Article continues below advertisement
Even before Vivienne Marcheline and Knox Leon were born, Brad, who recently told Larry King that parenting is " the hardest job in the world," had perfected his balancing act. On July 8, he brought his four children to see their mom — who was on doctor-ordered bed rest — at Fondation Lenval and also visited singer Bono's mansion in Eze, France.
"By spending time with the children, Brad is telling them they are very special to him and giving them a sense of security at a time when they may not be sure what their 'status' in the family will be now that the twins are here," parenting expert Dr. Susan Newman tells OK!.
That sense of security is most important for Shiloh, who may not yet understand what it means to add two new babies to their ever-expanding family. To help her adjust, Brad gave her two dolls to play with prior to the twins' birth and also made sure she and big sis Zahara were front and center when they visited Angelina on bed rest.
"It makes you more efficient because you do everything faster," he has said of fatherhood. "There's no time for messing around. You value what you are doing. That's the way I approach everything now."
For the complete story on Brad's superdad strategy, pick up the new OK! — on newsstands everywhere on Thursday!