BABIES
Brangelina Behind Closed Doors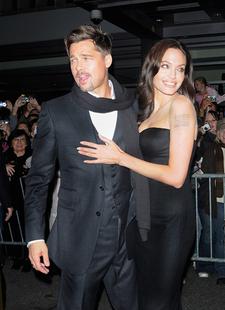 Asked at a Nov. 5 taping of the Oprah Winfrey Show about whether Angelina Jolie was thelove of his life, Brad Pitt responded, "Dare I say." Acknowledging his joy, the TV queen replied, "Dare I see!"
CLICK HERE for OK!'s Ultimate Brangelina gallery!
Indeed, thanks to Angelina, Brad has every reason to be smiling. Even with six kids running around the house, the mother of Maddox, Pax, Zahara, Shiloh and twins Knox and Vivienne, always makes it a point to take care of her man – though she admits that finding alone time in the bedroom isn't always easy.
Article continues below advertisement
The kids do knock before entering," Angelina recently told W magazine. "We've at least got that part down. Because Mommy and Daddy do need some space."
One place the busy couple manages to get their space is in the tub, an activity more about making conversation than making love.
"I don't know how he does it, but I talk a lot in the bath," she revealed to Marie Claire in July. "It's easier to talk when you're naked."
And easier to do quite a few other things, as well. During his Oprah Winfrey interview, The Curious Case of Benjamin Button star admitted that he and Angelina will likely have more children. Parenthood "is the greatest thing I've ever taken on," he declared. "Why stop now?"
But even pregnancy can't get in the way of the couple's adult-only fun. "It's great for the sex life," Angelina has said. "It just makes you a lot more creative."
For more on the steamy life of Brad and Angie, pick up the new issue of OK!, on sale everywhere Thursday!