BABIES
Brangelina Takes the Kids Shopping in NYC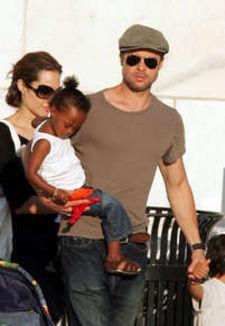 Earlier today, Brad Pitt and Angelina Jolie took their three adorable children to one of their favorite Manhattan haunts — no, not the Central Park Zoo or Times Square — Lee's Art Shop!
The Brangelina brood popped into Lee's, where Angelina often brings the kids during their visits to NYC, this morning and spent around 30 minutes checking out the store, spending over $350 on books and car toys. Unlike a lot of other A-listers, Brad and Angie did not ask to have the store closed to other shoppers.
Article continues below advertisement
"They were dressed really casually and looked happy together," one witness tells OK!. "Angelina didn't look as skinny up close." According to the onlooker, the three older kids, Maddox, 6, Pax, 3, and 2-year-old Zahara, were happily running around the art store's aisles having a great time while baby Shiloh slept.
By: Jocelyn Vena