BABIES
Bridget Moynahan's Baby Talk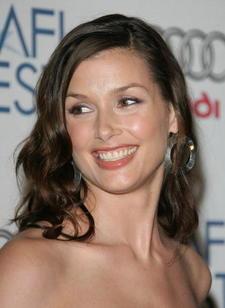 In a youtube clip, singer and actor (and original Star Search champ!) Sam Harris gets his good friend, actress Bridget Moynahan, to talk rather candidly about some of the more intimate moments during her recent pregnancy. (Scroll down for the video)
Bridget, of course, is the mother of , whose father is New England Patriots quarterback Tom Brady. And though the I, Robot actress didn't mention the Super Bowl stud, who is now dating supermodel Gisele Bundchen, by name, when Sam asked her what the most difficult part of her pregnancy was, she casts her friend an evil eye and says, "You know what the most difficult part was!"
Article continues below advertisement
And then, in a move that will put her on the hit list of just about every mother out there, Bridget confesses, "It wasn't difficult at all... no morning sickness, no nausea... I didn' put on any weight." Could she be any more perfect?
It's also revealed in the video that Sam, who became close friends with the 36-year-old beauty on the set of the 2000 film In the Weeds, was actually Bridget's birthing partner. "I wiped amniotic fluid from between her legs!" Sam recalls.
On the subject of baby John, who was born on Aug. 22 and made his worldwide debut on the !, Sam says, "Little John is perfection," which prompts Bridget to joke, "He's not so little anymore!"
<object width="425" height="355"><param name="movie" value="https://www.youtube.com/v/KfPirXS39as&rel=1"></param><param name="wmode" value="transparent"></param><embed src="https://www.youtube.com/v/KfPirXS39as&rel=1" type="application/x-shockwave-flash" wmode="transparent" width="425" height="355"></embed></object>