BABIES
Bridget Moynahan's Pals Angry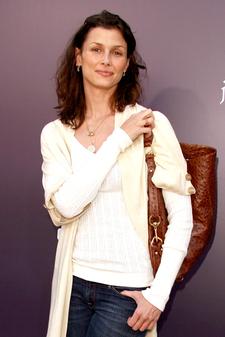 If it isn't bad enough to have your ex-boyfriend's new wife claiming your son is "100 perecent" hers, further touting that close relationship in Vanity Fair would probably be enough to tick off even the most unflappable person.
Accordingly, it seems Bridget Moynahan is none too happy with Gisele Bundchen, after the supermodel gushed over her motherly role to John Edward Moynahan, Bridg's son with ex Tom Brady, in the recent issue of the mag.
Article continues below advertisement
"It's not like because somebody else delivered him, that's not my child. I love him the same way as if he were mine," Gisele told Vanity Fair in the interview. "I already feel like he's my son, from the first day."
But the actress is keeping mum and apparently letting her angry friends do all the fighting back.
One close pal told Page Six, "If Gisele loved Bridget's child like he was '100 percent her own,' then she would not talk about him in the press. Discretion and respect are not either of Gisele or Tom's virtues, as was evidenced even when the child was still unborn and they publicly flaunted their relationship without any discretion whatsoever."
Burn!
Tom left Bridget before he was aware she was pregnant back in 2007, and began dating Gisele shortly after.
"Don't you think Jack will grow up and read her comments and find them disrespectful to him and his mother?" the pal continues to rage to the paper. "If Tom is such a great father as everyone likes to say, then you would think that he'd respect the privacy of his young child and would ask his wife not to use his son as a publicity prop and a subject of public discussion. Is she is so desperate for attention that she can't find anything more productive to talk about other than Bridget's child?"
Next up, Gisele's friends fire back at Bridget's friends.