BABIES
Britney & Adnan Fake Everyone Out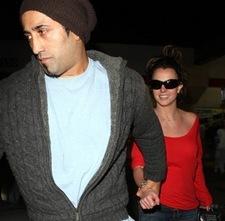 As originally reported by OK! Wednesday night, witnesses at a small airport in Van Nuys, Calif., spotted and her married boyfriend, paparazzo Adnan Ghalib, boarding a private jet believed to be bound for Cabo San Lucas, Mexico.
And then there were strongly supported rumors that the singer and her cuddly cameraman had actually jetted off to Maui, where Brit had been known to go for rest and relaxation in the past. These whispers were so convincing that three of the biggest paparazzi agencies each rushed a handful of photogs to Hawaii to say "aloha" to Brit.
Article continues below advertisement
However, soon came reports that the plane was actually headed for New Jersey's Teterboro Airport, 12 miles west of Manhattan, where paparazzi (including ones she hasn't dated!) were eagerly awaiting her arrival. So obviously she was coming to the Big Apple, yes? In fact, the owner of one of Brit's favorite clubs had been told to keep his doors open late because the 26-year-old mother of two was going to be popping in before last call.
And then this morning, it's being confirmed that Brit and Adnan have indeed surfaced in Mexico and that the New York City story was an elaborate ruse to throw off the scent of reporters.
Meanwhile, sources close to Britney's custody war with ex-hubby Kevin Federline tell OK! that any vacation the pop star might be having will likely be short-lived, as there is a hearing scheduled on Monday, Jan. 14, to determine whether or not Britney's visitation rights will be reinstated, and it's highly likely that the court will want to speak to Brit directly before making its decision.
As always, stay tuned to OK! as details develop.