BABIES
Britney Arrives to Court — and Leaves!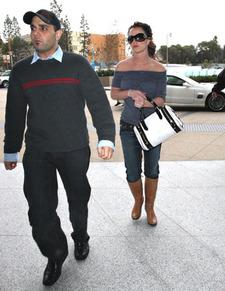 That was quick! Britney Spears arrived to the L.A. County Courthouse for her emergency hearing Wednesday morning and abruptly left an hour later, right before the hearing started.
"She just left the building in a silver Mercedes," the source tells OK!. "Adnan Ghalib picked her up."
Another source confirms to OK! that Britney never made it into the courtroom, going only so far as the metal detectors before spinning on her heels and high-tailing it out of the building.
Article continues below advertisement
After numerous no-shows and tardy appearances, the troubled pop star pulled up to the courthouse minutes before 9 a.m. PST for an emergency session she herself requested regarding her visitation rights with sons Sean Preston and Jayden James.
An eyewitness confirms Brit's legal team asked the court to grant "some sort of daytime visitation with the boys, which would take place in a theraputic environment." In other words, Britney would be able to visit with her sons under the supervision of a court monitor and psychiatric professionals.
In response, Kevin Federline counter-motioned that the status of the orders remain the same.
Donning a black ruffled satin cocktail dress, five-inch gold heels, bright red lipstick and her signature shades, the 26-year-old was escorted by Sam Lutfi and a bodyguard from the Beverly Wilshire Hotel, where she and Adnan had spent the night, a source tells OK!.
"She was in a Lincoln Navigator," the source says. "Sam was in the backseat. Adnan was not with her. He left the hotel at six this morning.
Article continues below advertisement
Trying to avoid another paparazzi fiasco that saw her arrive and leave before even stepping inside the courthouse last week, Brit and Co. parked themselves in private car garage armed with police, where Kevin and his team pulled in minutes before.
Dressed in a light gray suit with a pressed white shirt, the 29-year-old arrived at court with lawyer Mark Vincent Kaplan, clad in a blue Ralph Lauren suit and his security team at approximately 8:30 a.m.
Right after Brit departed the premises, the hearing commenced at approxmiately 9:40 a.m. and Kevin was sworn in, a source says.
"The judge asked where Britney was and if she was going to show and her lawyer said she didn't know and asked to begin proceedings as to not hold up the court."
Britney's lawyer, Anne Kiley, of Trope and Trope, was visibly angry when she walked into the courtroom, the source adds, alluding to the not-so-far-fetched idea that she and Brit engaged in an argument beforehand that led to the singer's depature.
Article continues below advertisement
Anne probably won't have to put up with her client's shenanigans for much longer — Trope and Trope had filed a motion last month to terminate its representation of Britney, which could become official at a Feb. 4 hearing.
The hearing ended shortly before 10:30 a.m. PT.
Following the hearing, it was announced that Britney will not be granted therapeutic visitation with the boys.
UPDATE: Mark Vincent Kaplan confirms that Britney will not receive court-monitored therapeutic visitation rights with her sons.
"None of the conditions of the prior orders were changed," he announced after the hearing.
As for the singer prematurely ditching yet another court hearing, Mark says, "I'm certainly not personally offended about that. I'm here ready to go whether or not she is here or not."
According to a court insider, "No one can clearly answer what's in Britney's head, and Britney refuses to speak for herself. To put those boys back in her arms without more evidence of her mental health is not what the court or Kevin wants, and the judge's decision to keep the 'no visitation' order in place indefinitely is reflective of that."
Britney still refuses to undergo a court ordered psych evaluation.
Meanwhile, a source reveals to OK! that the singer retreated back to the Wilshire Hotel with Adnan for a few hours. At around 11:50 a.m., Britney left the hotel and drove back to her house at The Summit in her Mercedes with her new assistant at her side.