BABIES
Britney Barely Makes It to Deposition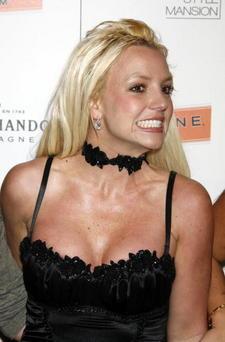 As first reported by OK!, following her decision on Wednesday to blow off her second court-ordered — and seventh in total — deposition in her custody battle with ex-husband , was given one final chance to make good on her legal responsibilities. All she had to do was show up today at 9:45 a.m. PT to give her deposition.
And yet, Britney, sporting a bright fuschia halter dress and black Christian Louboutin heels — "She was strutting like a supermodel," one witness tells OK! — didn't arrive at the office of K-Fed's lawyer Mark Vincent Kaplan until over 90 minutes later at 11:20 a.m. PT.
Article continues below advertisement
So where was she all morning? The troubled singer left her home in Beverly Hills around 10:15 a.m., only to turn her car around and head back into her gated community. At first, her wingman Sam Lutfi, who was in the car's passenger seat, told members of the paparazzi that Britney would indeed show. And then OK! heard that Britney had sent her limo driver and Sam away, and that she would NOT be at the deposition!
And then, just after 11 a.m., Brit was spotted driving herself in her white Mercedes in the direction of Century City, where Kaplan's office is located.
Slightly before noon, Brit emerged from Kaplan's office and drove off with her assistant Carla now along for the ride. Why such a short deposition? "It had been scheduled from 9:45 to 11:45 so she could be back home in time to be there when the boys arrived for their visitation day," explains an insider. "This was basically a big F-U to Kaplan by Britney. She showed up as late as she possibly could and left as quickly as she could."
Article continues below advertisement
In a press conference following the deposition, Kaplan confirmed that the proceedings eventually began at 11:32 a.m. and ended at 11:45 a.m. "Fourteen minutes is not a lot of time to develop a line of questions," Kaplan, who surprisingly described Britney as "cooperative," explained. He also told reporters that, as reported by OK! earlier today, there is a second day already scheduled for further deposing of the pop star.
Britney arrived back at her Beverly Hills home shortly after noon and is now with her visiting children until the end of their scheduled time with mommy at 7 p.m. tonight.