BABIES
Britney Gets Visitation Rights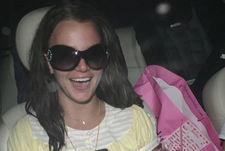 While the California courts have decided to uphold Monday's decision, giving full temporary custody of the two children he shares with , it has just been announced that the beleaguered pop star has been granted visitation rights to see sons Sean Preston, 2, and 1-year-old Jayden James Federline.
"The court did not reinstate the pre-existing custody order," Kevin's attorney, , said after exiting the Los Angeles County Superior Court. He did, however, allow "petitioner (Britney) some visitation." The changes in the arrangement will be in the order that the Court will release either tonight or tomorrow morning. The order of today, as in any custody order, is subject to modification as are all custody orders in California. "Britney was not present today," Kaplan said. "Kevin and his counsel felt that the order was justified and we're pleased."
Article continues below advertisement
And how did Brit react to the news? She enjoyed her newest pastime of driving aimlessly — from her house in Malibu to a supermarket, to a gas station and finally to a... you guessed it — a Starbucks!
Smiling and waving to the photographers and with her Yorkie London on her lap, Brit acted as if she didn't have a care in the world before finally landing at her Beverly Hills house.
By Jack Carter