BABIES
Britney Hospitalized After Police Standoff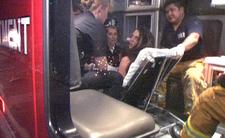 Police cars, ambulances and firetrucks with sirens blazing, helicopters hovering above — it was a scene straight out of a Hollywood blockbuster Thursday night as Britney Spears and her infant hid from the authorities inside her Beverly Hills home.
"It looked like a hostage situation," one witness told OK! at the time.
So how did this all happen? OK! retraces her steps.
11:32 a.m.: Britney, in a bright fuschia halter dress and heels, to her final chance to give a court-ordered deposition in her custody battle with ex-husband Kevin Federline. She is only able to be deposed for approximately 14 minutes.
Article continues below advertisement
12:20 p.m.: Brit arrives back home at her gated community, The Summit. Her sons are there for their scheduled visit, as is a court-appointed monitor.
7 p.m.: K-Fed's security team arrives to pick up boys Sean Preston and Jayden James and bring them back to their father's house. When there is a delay in releasing the boys, Britney's assistant, Carla, makes excuses for the pop star. However, it soon becomes clear that there is a problem.
At some point, 2-year-old Sean Preston is removed from the house, leaving only little Jayden inside with his mother.
8 p.m.: The police are notified of a custodial situation at Britney's house and officers are dispatched to The Summit. But when they arrive, they find that the court-appointed monitor, who has been locked out of the house, is not in possession of the paperwork required to allow them to enter Britney's house.
Article continues below advertisement
9:20 p.m.: K-Fed's lawyer Mark Vincent Kaplan arrives at The Summit with the required paperwork. He and five police cars enter the gated community and drive up to Britney's house.
10:30 p.m.: More than a dozen police officers, as well as two ambulances and a handful of fire rescue trucks are now on the scene. Sometime before 11 p.m., Britney's cousin Alli and Brit's assistant Carla leave the house, leaving Brit alone with Jayden James.
11:45 p.m.: Britney is taken out of her home and placed into an ambulance, which is escorted by 13 police cars with sirens blaring to Cedars-Sinai Medical Center, arriving at approximately 12:30 a.m.
Police officers are with Britney during the ride to the hospital. While nothing official has been stated on the topic, this is generally a sign that the patient is considered to be in police custody.
Article continues below advertisement
"We are concerned about her mental state and believe ," an LAPD officer revealed to OK! at the time of Brit's arrival at Cedars-Sinai.
Britney, who had been sobbing when taken from her home, "Her eyes were like pinholes," another witness recalls to OK!.
Already waiting at the hospital's emergency room is K-Fed and his lawyer Mark Vincent Kaplan, who tells OK!, "I actually don't know what is going on."
Britney's pal Sam Lutfi followed the ambulance to the hospital and was initially denied entrance to see his troubled friend.
There is no sign of Britney's newest boy-toy, photographer Adnan Ghalib.
1:15 a.m.: A surprise guest arrives — . The two had not seen each other in at least eight months. It is unknown as of now whether or not Britney's mother Lynne, pregnant sister Jamie Lynn or brother Brian are on their way to L.A.
For now, sources are telling OK! that the plan is to keep Britney under guarded observation for 24 hours and then book her for as-yet-unnamed offensives.
Stay tuned to OK! as the drama continues to unfold.