BABIES
Britney: "I Feel Shaky"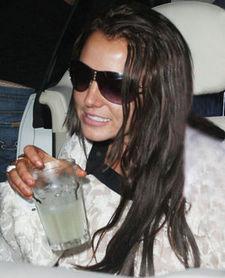 On Wednesday, lawyers for Britney Spears, who last week lost temporary custody of her two sons to their father, wannabe rapper Kevin Federline, will ask Family Court Commissioner Scott Gordon to increase the amount of time she can visit with the boys to include overnight stays.
But when OK! caught up with Brit on Thursday at the Cabo Cantina on Wilshire Blvd. in L.A., she appeared to be conflicted. While she said to OK! that she is looking forward to getting the chance to spend time with Sean Preston, 2, and 1-year-old Jayden James, she also confessed, "I'm shaky. I feel shaky."
Article continues below advertisement
Following lunch with her new assistant, the pair drove across town to shop for the boys at a Target store, where Brit cryptically told OK! "It really has been quite a day."
Perhaps Britney was talking about the news that the release date for her new album, Blackout, has been pushed up two weeks to Oct. 30 to fight internet leaks of various tracks from the CD.
Stay tuned on Thursday as OK! reports on developments in Brit's ongoing custody battle.