BABIES
Britney & K-Fed to Square Off in Court Today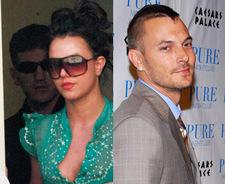 When Britney Spears and her ex-husband, Kevin Federline, walk into the courtroom Tuesday, it will mark the first time in more than half a year that both parents of little Sean Preston and Jayden James Federline have sat before Commissioner Scott Gordon in their seemingly neverending custoday battle.
Britney did make two aborted attempts to attend hearings before being remanded to psychiatric care — and the supervision of her father — several months ago.
Article continues below advertisement
On the agenda for tomorrow's hearing is the matter of the pop star's long-awaited, court-ordered psychiatric evaluation, which should include detailed medical reports on her mental state, as well as observations on her parenting skills.
Sources close to the case reveal to OK! that the results are a "mixed bag" — Brit-Brit has finally learned how to make her boys the focus of her attention. But, says the source, doctors feel she still has mental issues to contend with.
The evaluation, which lawyers for both sides of the case have had for two week, and which will almost certainly be discussed in a closed court, exists to aid Commissioner Gordon in ruling on Britney's requests for more visits and possible overnight stays with her young sons.
Currently, the 26-year-old singer has no formal custody, though she does enjoy several, supervised, multiple-hour visits during the week.
Article continues below advertisement
K-Fed's lawyer, Mark Vincent Kaplan, tells OK! that his client is fine with more visits — but not right away.
"She needs to prove herself over time," he explains. "We need to see that there is consistency and stablility over a substantial amount of time, a slow ramping-up and not a spike."
Kaplan does commend Brit's father Jamie Spears for the work he's done in stabilizing his daughter. However, he and Kevin would like to see more than two months of good behavior before agreeing to alter their current set-up in any substantial way.
Britney's father and lawyers remain in legal control of her personal and financial affairs until an evaluation hearing on July 31. The actual trial for custody is not yet scheduled, but Kaplan has said in the past that it won't be until sometime in September.