BABIES
Britney & Kevin's Custody Battle Finally Over!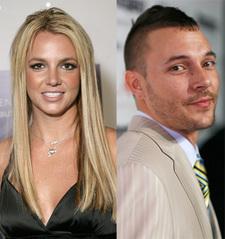 The California court system can finally breathe a sigh of relief — one week after OK! that Britney Spears and ex-husband Kevin Federline had finally reached an agreement over their prolonged custody battle for their two children, OK! has confirmed that the paperwork has been signed and the matter is Spears vs. Federline is officially over!
"Commissioner Gordon has signed off on the settlement," K-Fed's attorney Mark Vincent Kaplan tells OK! exclusively. "As of this moment, the matter is officially done."
Article continues below advertisement
This announcement comes more than a week after Kaplan spoke exclusively to OK! to announce that he and Brit's attorney Laura Wasser had worked out an agreement between the feuding spouses. Under the terms of the settlement, Kevin is to retain sole legal and physical custody of Sean Preston, 2, and 1-year-old Jayden James, while Britney will continue to have visitation rights which may increase over time.
The agreement was presented to the court on July 18, at which point commissioner Gordon had been expected to finalize the paperwork, finally putting an end to months of back-and-forth feuding.
An emergency hearing had been scheduled for 2pm PST on Friday, at which time a a spokesperson for the court told OK!, "There apparently is a settlement... We expect it delivered by one of the lawyers this afternoon."
Article continues below advertisement
After Kaplan finally arrived around 3pm to deliver the final settlement agreement, he told reporters that his client is relieved at reaching this endpoint. "It's a great relief for Kevin to have this two-year ordeal behind him," he explained.
The few details of the settlement that have been released include the fee to be paid to Kaplan ($250,000) and the amount of child support to be paid to Kevin by Brit — $20,000/month, up $5,000 from the existing agreement.
When asked why Kevin, who could easily have asked for and received a larger sum of money, agreed to only a $5,000 increase, Kaplan said, "He's trying to contribute as much of his own money as he can," adding that for Kevin, "it's never been about the money."