BABIES
Britney Needs a Math Lesson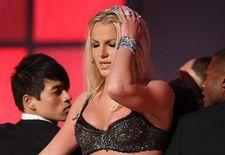 No one every accused of being a math whiz. But it's one thing not to understand the intricacies of calculus, another to lose track of millions of your own money. And that's precisely what the beleaguered pop star might be doing.
As here, Brit has all but finalized the sale of the Malibu home she shared with ex-hubby to Hollywood director Stephen Sommers for $10 million — $3.5 million less than the original asking price. As if that weren't bad enough, sources tell OK! that Sommers and his wife plan to huff and puff and blow the existing structures down to rebuild from the ground up.
Article continues below advertisement
And of course, as part of her divorce settlement with K-Fed, Brit is required to split all cash from the sale right down the middle with her wannabe rapper ex-hubby. Thus, Brit will only stand to take home $5 million at the end of the day (not counting fees and taxes). Even so, that should be more than enough for her to buy a nice little Beverly Hills fixer-upper for her and her kids, right?
Well, not if you believe reports that Brit is relocating her brood a little further up the coast to a home in Point Dume. The hitch? The list price for the 8,500 sq.-ft. home is $9.35 million! Britney, that's almost double the money you're making from the sale of the Malibu house.
That being said, it has yet to be confirmed whether or not Brit is purchasing or renting this new home, so perhaps she's got a better head for finance than she lets on.