BABIES
Britney Not Getting Overnights for a While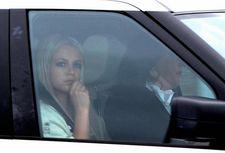 Although it was truly a monumental day for Britney Spears — the singer showed up to court for the first time since October to face off with her ex, Kevin Federline, in their ongoing custody battle — sources tell OK! that it didn't go as well as some online reports would have you believe.
Reports that the pop superstar will get overnight visits with her boys within the month, and that 50/50 custody with K-Fed is imminent, are false, sources close to the case confirm to OK!.
Article continues below advertisement
"Britney will not get automatic overnights in the future," the insider tells OK! exclusively. "Right now, the amount of time she gets for her day visits has been increased, but no overnights are planned."
According to the source, more information is needed before the issue of overnight visits is even considered.
"The court needs to see how this first step goes for a significant amount of time," explains the insider, adding that things won't be able to move forward until after a review of this latest expansion. "It's not about how well she does with the boys," the source said, "But how well the boys do. That's what it's all about."
Until today's decision to expand her time with sons Sean Preston and Jayden James, the singer has had the boys three times a week for 3-hour, supervised visits.
Another source close to the case tells OK! that reports that the commissioner was pleased with Britney's progress are also false. According to the insider, a return to split custody is still many, many months away, and it could be years away if the conservatorship is dissolved at its next review date on July 31.
The source says Britney's progress is based solely on the presence of the conservatorship. The singer's father and conservator, Jamie Spears, has a "duty to be there, not as a father or grandfather, but by law. That is what's made the turnaround in her. Take that away, and who knows what will happen. We don't know what she'd be without the company of the conservator."