BABIES
Britney Releases Statement on Jayden Hospitalization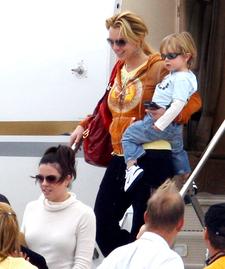 What started out as a nice visit home to Kentwood, Louisiana, for Britney Spears and her sons Sean Preston and Jayden James turned into quite the scare Sunday afternoon after 2-year-old Jayden fell ill and was takent to the hospital.
A statement on Britney's official site reads: "Jayden James Federline was admitted to the Southwest Mississippi Regional Medical Center on Sunday, November 9th. Doctors concluded he had a reaction to something he ingested. He is expected to be discharged tomorrow."
Article continues below advertisement
CLICK HERE for OK!'s Ultimate Britney Spears gallery.
According to reports by TMZ and others, the whole Spears family rushed 25 miles to the Southwest Mississippi Regional Center on Sunday, after Jayden became sick. When Britney called 911 she was told it would be quicker to drive to the hospital rather than wait half an hour for an ambulance to arrive.
The boys' father Kevin Federline has not yet appeared on the scene. Brit's brother Bryan was seen leaving the hospital early this morning with his nephew Sean Preston.