BABIES
Britney's Back With a Vengeance!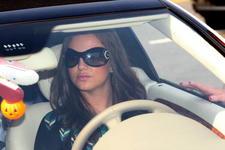 Back from her closed-door escapades across Southern California with supposed photographer beau Adnan Ghalib, stir-crazy pop star Britney Spears made her first solo public appearance since last Thursday's .
And once again, the single mother-of-two, who was "dressed like a movie star," according to one witness, did what she does best, driving aimlessly around the streets of Los Angeles — at least until she abandoned her car at a busy intersection!
Article continues below advertisement
Driving with one nearly flat tire, the 26-year-old singer and her assistant Karla departed Brit's gated community, The Summit, around 6:15 p.m. PT on Monday. The pair made a quick pitstop at a Starbucks and continued on for about an hour, refusing to do anything about the obviously wounded wheel.
Then around 7:15 p.m. PT, Spears and company caused a gridlock situation at the intersection of Sunset Boulevard and the 405 Freeway when they abandoned Brit's white Mercedes in the street!
Instead of waiting for tow trucks, Britney looked to the trail of paparazzi behind her and found comfort — and a ride — with a new photographer by the name of Fabrizio. Perhaps the pop star heard the rumors that Adnan was attempting to sell private photos of her for millions of dollars?
The duo headed straight back to Britney's home at The Summit, where they were greeted outside the gates by another group of police who were doing their best to keep the media circus in order.
Article continues below advertisement
After about 10 minutes, Britney once again exited the premises, this time in her assistant's modest Toyota, and headed to the Four Seasons hotel in Beverly Hills — the same Four Seasons she had been reportedly banned from after her recent wild behavior, including an with pal Paris Hilton.
Britney remained at the Four Seasons for a while, but did not check in. Instead, the pop star lingered alone on the patio of the hotel's restaurant, where witnesses tell OK! that she was crying while her assistant stood guard at the door.
Finally, around 10 p.m. PT, Britney exited the Four Seasons. But instead of heading home and calling it a night, the singer made her way to another of her fave hotels, The Peninsula. Of course, this is the same hotel where Britney and Adnan first spent the evening together following another of her famous wild goose chases around L.A.
"They did NOT want to let her check in," a witness inside the Peninsula reveals to OK!. "She hadn't called ahead, so the Peninsula's security was completely not ready to handle the madness." Eventually, after about 10 minutes of bickering under her breath with the front desk staff, Britney was finally able to go up to a room, where she immediately turned on the TV so loud it could be heard down the hall, a source tells OK!.
Will she remain at the Peninsula? "Given Britney's tendencies to hop about and her love for luxury hotels," one Hollywood insider explains to OK!, "it's unlikely that she'll stay more than one night, if she even makes it to morning."
Stay tuned to OK! for all the details of Britney's latest movements.